How it Works
Bin The Bin is an effective, recycling scheme from London Recycling. We provide efficient containers and recycling options and help you select the perfect location for your new recycling scheme. This allows you to Bin the Bin, which basically means ditching the desk-side demon!
An overview of the scheme
A visit to your site and meeting with the facilities team leader aims to explain the scheme, its many benefits, an agreed launch date and marketing tips
A floor plan is then used to locate the best recycling points with colour coded key. A spec sheet gives bin numbers and type for example, Food waste or Confidential. Bin siting by plan is most useful for cleaners and clearly shows what bin is on what floor, its size etc
One month before launch date and once bin type, colour apertures, stickers and so on are confirmed, Our eye catching Diamond emblem is sent to you, Aim to market the scheme in key areas, i.e. foyers, lifts etc. Different posters can be interchanged on the weeks leading up to the launch
One week before launch, a pre-agreed video will be played in reception and a banner will be mounted
On the launch day, we show the new bins at a chosen site i.e reception and conduct an informative awareness day where questions may be asked
The desk-side bins are removed that weekend and the new scheme is up and running on the Monday
We'll take your redundant desk-side bins away and donate them to our 'Garden in a Bin' scheme for schools
We also offer a pre-waste audit to show existing recycling rate and a post-waste audit to show how Bin the Bin has worked.
Example of Bin the Bin in Action
Internal Recycling Bins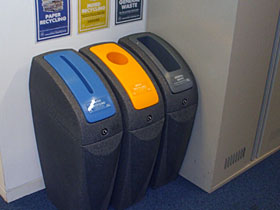 50L Mini Executive Bins in the Kitchen Area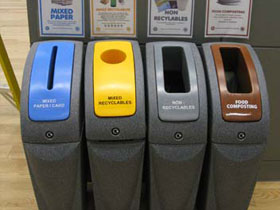 50L Mini Executive Bins
50L Mini Executive Bins with Standard Posters can be used instead of 180L where space is restricted.
180L Executive Bins positioned as a Centralised Recycling Point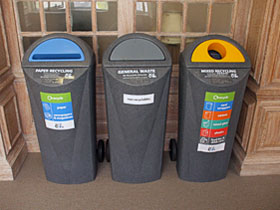 180L Executive Bins positioned as a Centralised Recycling Point
180L Executive Bins positioned with Display Stand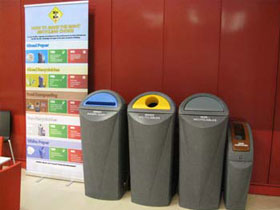 180L Executive Bins positioned with Display Stand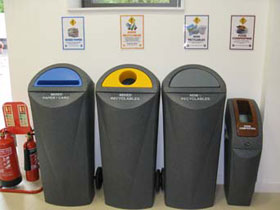 180L Executive Bins positioned with Food Composting Bin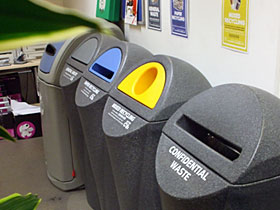 4 Bin System in Print Room including a Confidential Waste Bin
External Recycling Bins
660L Cardboard Recycling Bin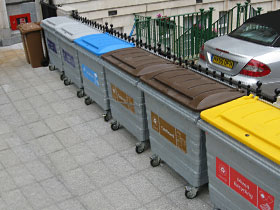 660L Recycling Bins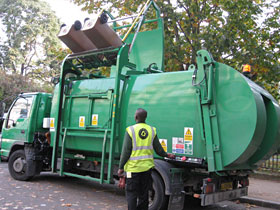 Collection